The 1920s were a heady time in fashion illustration. Magazines like Vogue and Harper's Bazaar featured illustrated covers and pages of articles highlighting the latest styles. National ready-to-wear clothing companies hired top illustrators to promote their brands with eye-catching, full-color layouts. The Museum has a fascinating collection of fashion illustrations from the 1920s. I've been exploring them lately as work toward an upcoming exhibition on Jazz Age Illustration.
Vogue commissioned top-notch illustrators like Sarah Stilwell Weber and Helen Dryden to design creative, playful covers in the teens and twenties. These covers didn't always showcase current styles—Dryden's 1922 Cover for Vogue (see below) seems to evoke an earlier era—but they convey a stylish sensibility and enthusiasm for fashion. Interior images, like Manuel de Lambarri's straightforward graphics, generally related more directly to current questions of what to wear.
Above: Cover for Vogue, December 15, 1922. Helen Dryden (1882–1981). Gouache, ink, and watercolor on paper, 19 × 15 1/2 inches. Delaware Art Museum, Acquisition Fund, 1992.
By the twenties, fashion illustration permeated American culture, appearing well beyond the publications dedicated to fashion. Even the most ordinary products—men's shirts and suits, hosiery for women—were promoted with striking visual campaigns that appeared in widely circulated general-interest magazines like The Saturday Evening Post. J.C. Leyendecker's Arrow Collar Man was one of the most iconic images of the period. Strikingly handsome and impeccably turned out, the Arrow Collar Man supposedly received bags full of mail from admiring women. Ads often pictured him encased in an oval—his chiseled features perfectly framed by a white collar and necktie. A recently accessioned sketch in the Museum's collection may be a study for an Arrow Collar ad. The model for the Arrow Collar Man was Charles Beach, Leyendecker's partner in business and life for 50 years.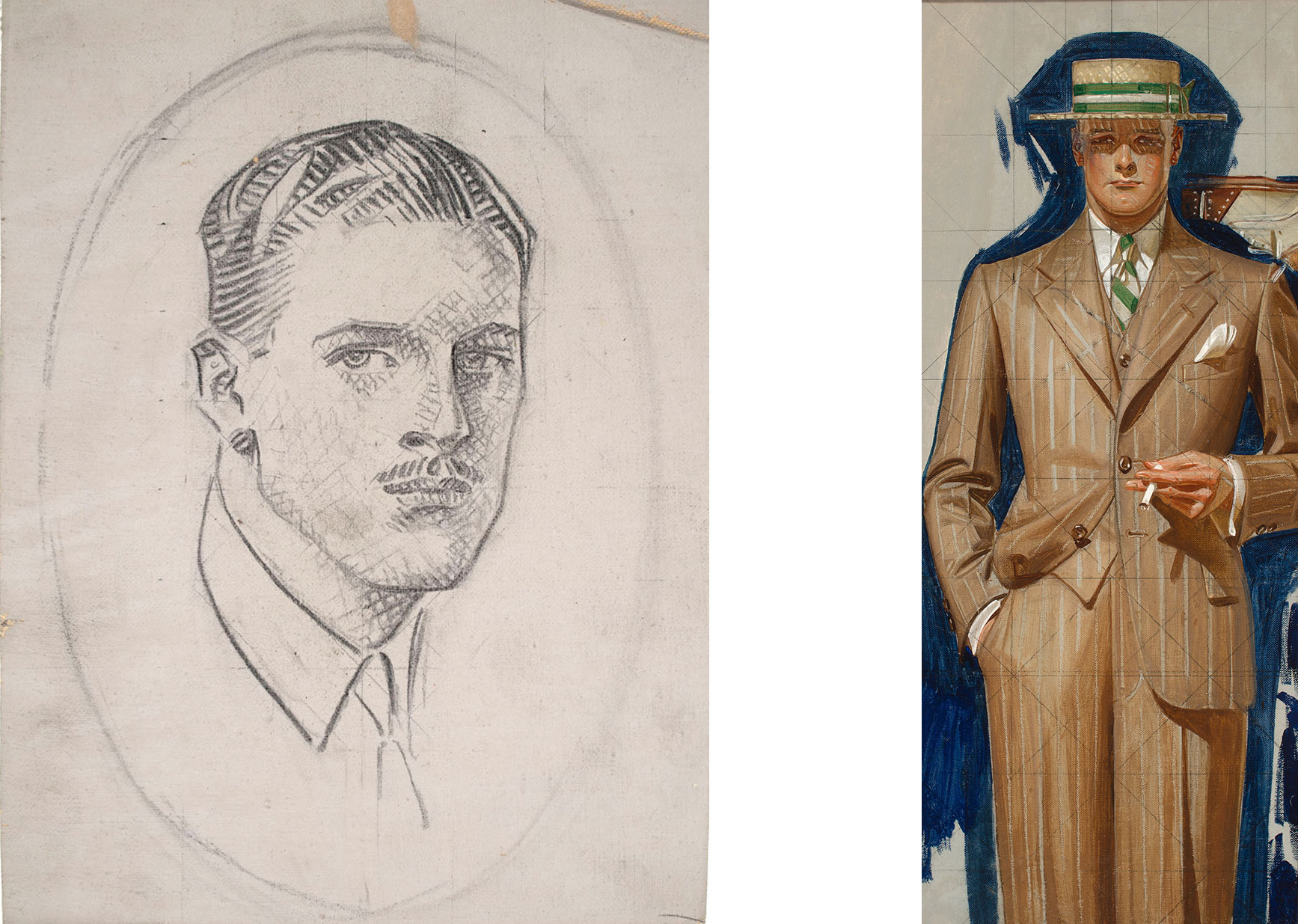 Above, left to right: Portrait Head (Possible Study for Arrow Collar Advertisement), c. 1925. J.C. Leyendecker (1874–1951). Graphite on coated canvas, 10 3/8 x 7 5/8 inches. Delaware Art Museum, Gift of Helen Farr Sloan, 1984; Accessioned, 2020. | Figure Study for a Kuppenheimer Advertisement, 1929. J.C. Leyendecker (1874–1951), Oil on (linen) canvas, 22 x 9 1/4 inches. Delaware Art Museum, Acquisition Fund, 2016.
Beach modeled for many of Leyendecker's advertisements, likely including this over-the-top Kuppenheimer Suits promotion. The Museum owns a Figure Study for this luxurious spread. A famous illustrator whose signature style dominated the covers of The Saturday Evening Post in the pre-Rockwell era, Leyendecker himself brought a gloss of glamour to the ad campaigns he created. According to one critic, he crystallized "the refined American male look of the first 30 years of the 20th century."
C. Coles Phillips brought his ideal of the fashionable modern woman to advertisements and magazine covers. Phillips designed many ads for Holeproof Hosiery, featuring women displaying their flawless stockings. In his cover for The Saturday Evening Post (top) a stylish woman must cope instead with impromptu repairs to her hosiery. Everything about her—the dropped-waist dress, bobbed hair, and chic shoes—made her an aspirational image for contemporary women.
Even as these beautiful images were appearing in American magazines every week, change was brewing. In 1923, Edward Steichen became chief photographer for Vogue and Vanity Fair. Steichen became one of the pioneers of fashion photography, pushing the field in new artistic directions. By the early 1920s, photography was making inroads within magazine layouts, and in 1932, Vogue printed its first photographic cover. Issues with photographic covers soon outsold ones with illustrated covers. A period known as a "golden age" of fashion illustration was coming to an end.
Heather Campbell Coyle
Curator of American Art
Top: Cover for The Saturday Evening Post, October 2, 1920. C. Coles Phillips (1880–1927). Watercolor, gouache, and graphite on illustration board, 20 × 16 inches. Delaware Art Museum, Acquisition Fund, 1988.